Women's Orthotic Sandals For Bunions
$62.59 AUD
$119.99 AUD
Save $57.40 AUD

Fit: True To Size.
Size Guide

Women's Size

Men's Size

HOW TO MEASURE

To measure your feet stand on a level floor with the back of your heels against a straight edge or wall

1. FOOT LENGTH

Measure your foot length by placing a ruler flat on the floor straight alongside the inside of your foot from your heal to your toes.

Place an object with a flat edge straight across your toes with the edge touching the tip of your longest toe. Take the measurement (in millimeters) from the ruler where the flat edge crosses (see image below). This is your foot length measurement.


2. SELECTING A SHOE SIZE

If your foot measurement is halfway between sizes, select the larger size.

You may find one foot is longer than the other, this is quite normal, please use the larger size when making your shoe size selection.
FAQs

Shipping & Delivery

Where do you ship from?

Geekhubis products are manufactured and shipped out from different fulfillment centers in the US, China and Australia.

How much does shipping cost?

We provide customers with free shipping on orders.

When will I receive my order?

Our shipping time is divided into two parts, processing time and delivery time.

The orders have an average processing time of 2-5 business days so please be noted when purchasing, especially gift orders.

The delivery time is the time from our warehouse to your receiving address. This usually takes 5 to 10 working days, depending on your location and the working hours of the local post office.

As soon as we've dispatched your order, you'll receive an email from us with the tracking details and carrier tracking site.

I'm not from Australia, can I order?

We offer international shipping services to over 150 countries and islands around the world. However, there is some location we are unable to ship to such as Pakistan, Ecuador, Isle of Man, Costa Rica, Cyprus, Martinique, Cayman Islands, Serbia, Guernsey, Lebanon, Jersey, Dominican Republic.

We apologize if your country is enlisted above.

My tracking number doesn't work.

You should see tracking events within 48-96 hours after you have received the tracking number/ID. The reason for this time lag is that in most cases the first tracking events only show up once the shipment was handed over to the local facility.

Note: Some carriers take a longer time for the next information to appear.

Why was my order shipped separately?

Our warehouses are located in different locations in the US, China, and Australia. Moreover, our stock is spread out over multiple fulfillment centers in order for them to get to you faster. This means orders containing multiple items may be shipped individually.


You may receive one item before the next. So don't panic if you don't receive all of your items at once…they are on the way.

My order was shown "Delivered" but nothing was received.

If you received the delivery notice but the package is not in your mailbox, in your apartment office, or on the porch/doorstep, please don't worry, there are a few possibilities and steps to do in that event.

It could be delivered to the PO Box if you have one. Please stop by the post office to collect your package.

Your neighbors and housemates might have received it in error. You might want to reach out to them.

Some carriers' delivery vans have GPS that sometimes automatically updates a shipment as "Delivered" prematurely. Please wait 2-3 business days because the package was most likely marked as delivered accidentally, and will arrive the following days.

The tracking shows my order was returned.

There are usually 2 common reasons that your package is returned:

Your shipping address is incorrect/insufficient

Or you are not able to collect your package when the post office attempts to deliver.

In the event the parcel is returned to us due to incorrect/incomplete shipping details, small reshipping fees will be applicable.

In other cases you were not able to collect your package when it was out for delivery, your package would be kept at the local post office for a period of time for pickup before they send it back to the sender. If you are not able to collect your package in time, we are willing to send you a replacement.

If the second package cannot reach you, we are sorry that there won't be anything else we can do to help.

Order Modification/ Cancellation

How do I modify my order?

You can modify your order simply by sending your request via email (Email: support@geekhubis.com). Please provide all details for your adjustment and your order number.

NOTE:

Your order is only eligible to be modified within 2 hours of placing order. After that time, the order is locked for processing and can no longer be adjusted.

We try to process our orders extra fast to make sure that they arrive with you as soon as possible so we can't make sure if we're able to change your order address, item variant or quantity. Hope you understand.

For modification requests and in the holiday season, orders may reach you a little longer than usual for processing the change.

How do I cancel my order?

We are sorry to hear you wish to cancel your order. If you'd like to cancel your order, please send us your request via email (Email: support@geekhubis.com) including your order number. If possible, hope you can let us hear about your cancellation reason, we're always looking for ways to deliver happiness.

NOTE: Your order is only eligible to be canceled within 2 hours of placing order. After that time, the order is locked for processing and can no longer be canceled.

After-ship Issues




What if I receive a damaged/defective item?

We're sorry you received a parcel with damaged/broken/defective items! Here's what you need to do:

It's not recommended to use the product for better inspection.

Promptly contact us here, tell us about your problem(s), and don't forget to attach photos/videos that show the defect/ damage condition for better support. We will give our best to assist.

I am still missing other items in my order.

Please check your tracking confirmation email or order packing slip to ensure items are not arriving in separate shipments.

If your missing item was shipped from a different fulfillment location, it may still be in transit to you. In case there is no other information on the remaining items, please reach out to us here.

Order Placement




First of all, choose products that you love, have fun customizing them, click "Add to cart" and then hit "Checkout".

Fill in the shipping details that are most likely to receive packages. Choose a suitable payment method and complete the order.

That's it! We will do the rest for you.

I can't find my order confirmation email.

If an order was placed and processed successfully, an automated order confirmation should have been sent to you via e-mail. Please check your Spam/Junk/Promotion mailbox if you do not see any emails in your primary inbox.

Also, it is recommended that you whitelist our notification email address in order to improve our email deliverability.

If you still could not find it after checking, we recommend you Contact Us so we may investigate this for you.

How do I use my discount code?

Just a few steps to save on your order:

Add the item to your cart

Click on the secure Checkout button

Insert a discount code in the discount code box. Then click APPLY

Payments

Which payment method and currency is accepted?

We offer safe shopping and accept payment via PayPal, Credit card (such as VISA, MASTER CARD, AMERICAN EXPRESS, etc.). Therefore you can choose the most suitable one for you.

Please note that when checking out, your payments will be processed in AUD which is our primary currency.

If your credit card company or bank uses a different currency, the final transaction price may differ due to currency exchange rates.

If you need our assistance, don't hesitate to chat with our support agents.

If you are being charged a second time, please reach out to us with your order number and a screenshot of the bank statement/ transaction information. Our finance team will check and complete our investigation soon.

If you pay through Paypal, the second amount might be a pre-authorized charge from PayPal and it will eventually fall off your account. We highly suggest contacting PayPal to turn off or remove the pre-authorized setting in your account.

It may also be a pending transaction when paying by credit card. It appears on your bank statement along with the real payment and will disappear within a few business days.

Please reach out to us if you do not see any changes on your account within 5 - 7 business days and we will help to check it out.

My card is declined. What's the reason?

Please make sure the following information is valid/correct:

Card number

Expiration date

Security code

Billing address

You should try to enter the information again if you have changed them recently.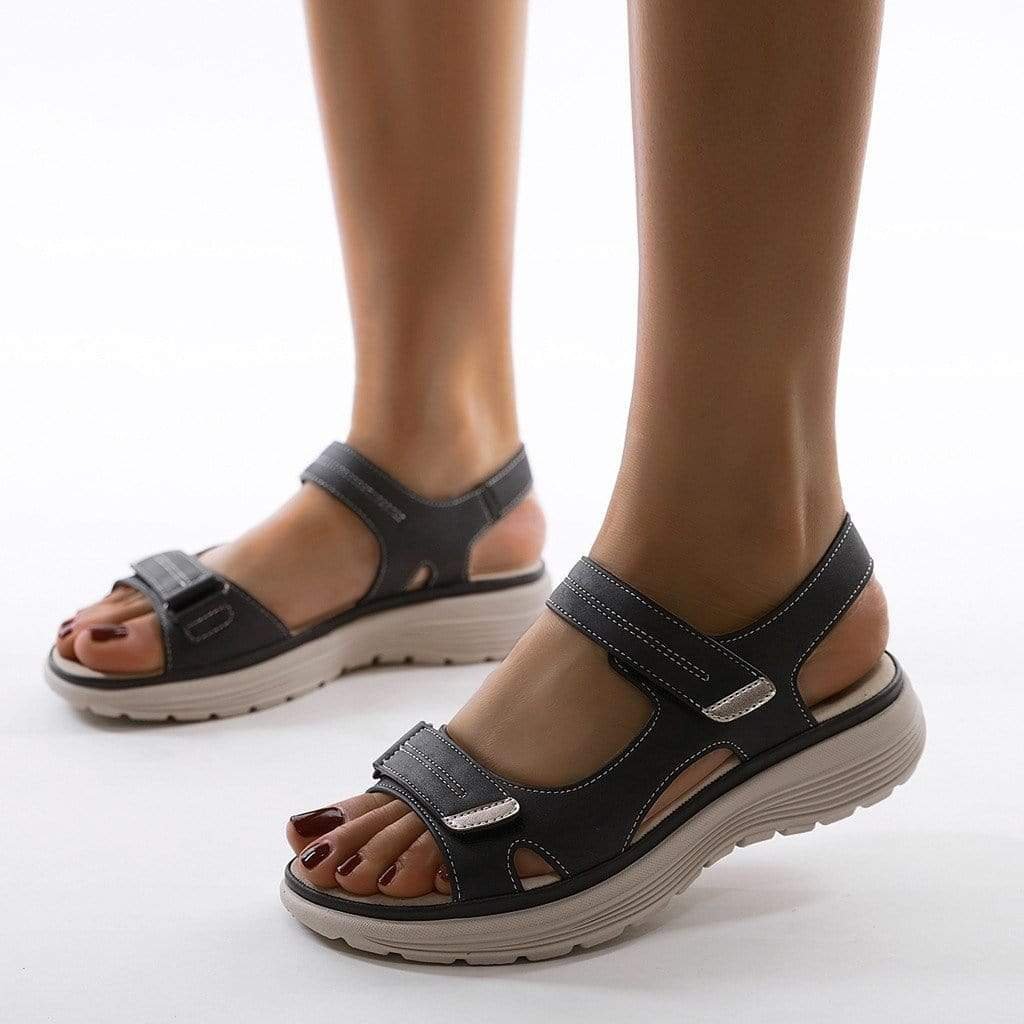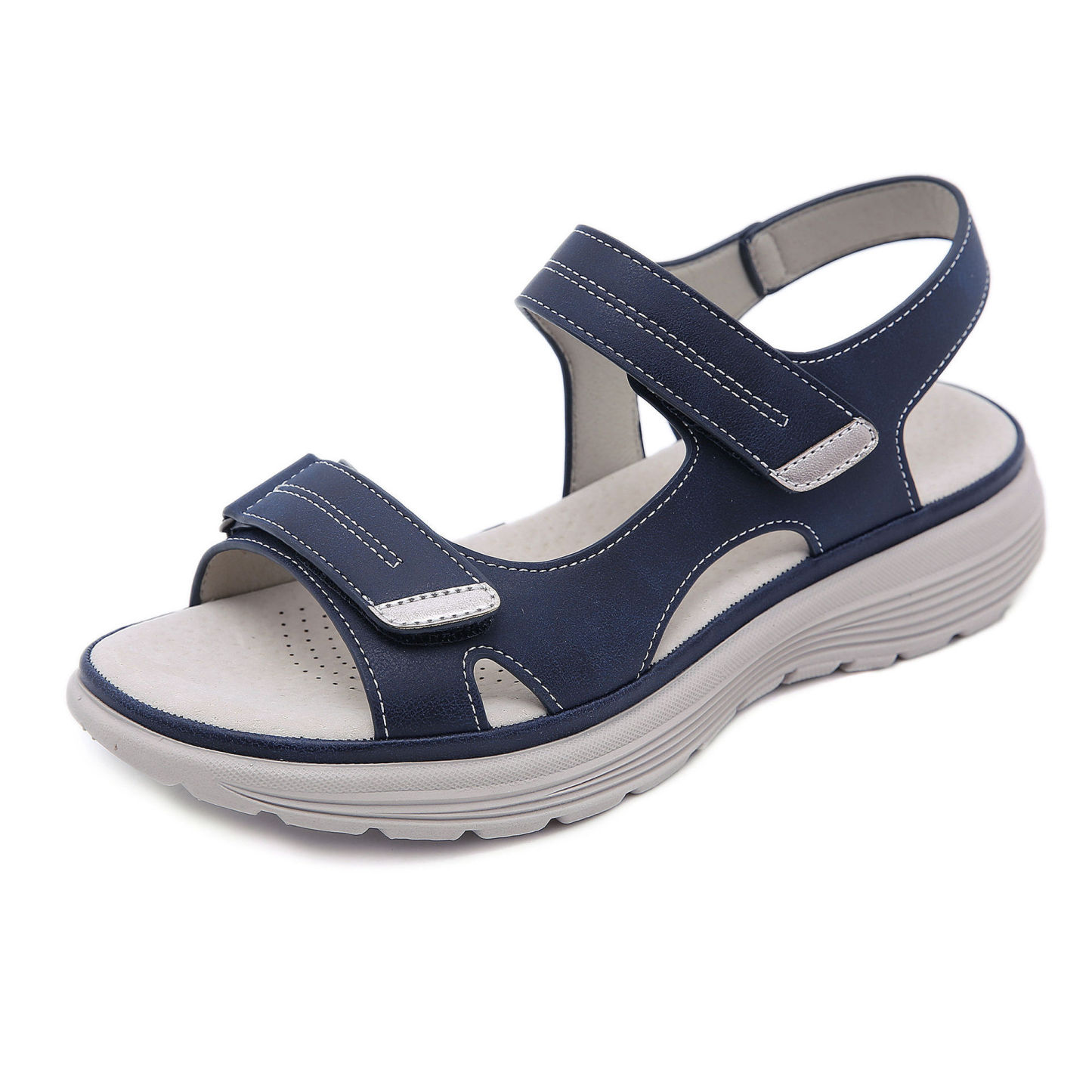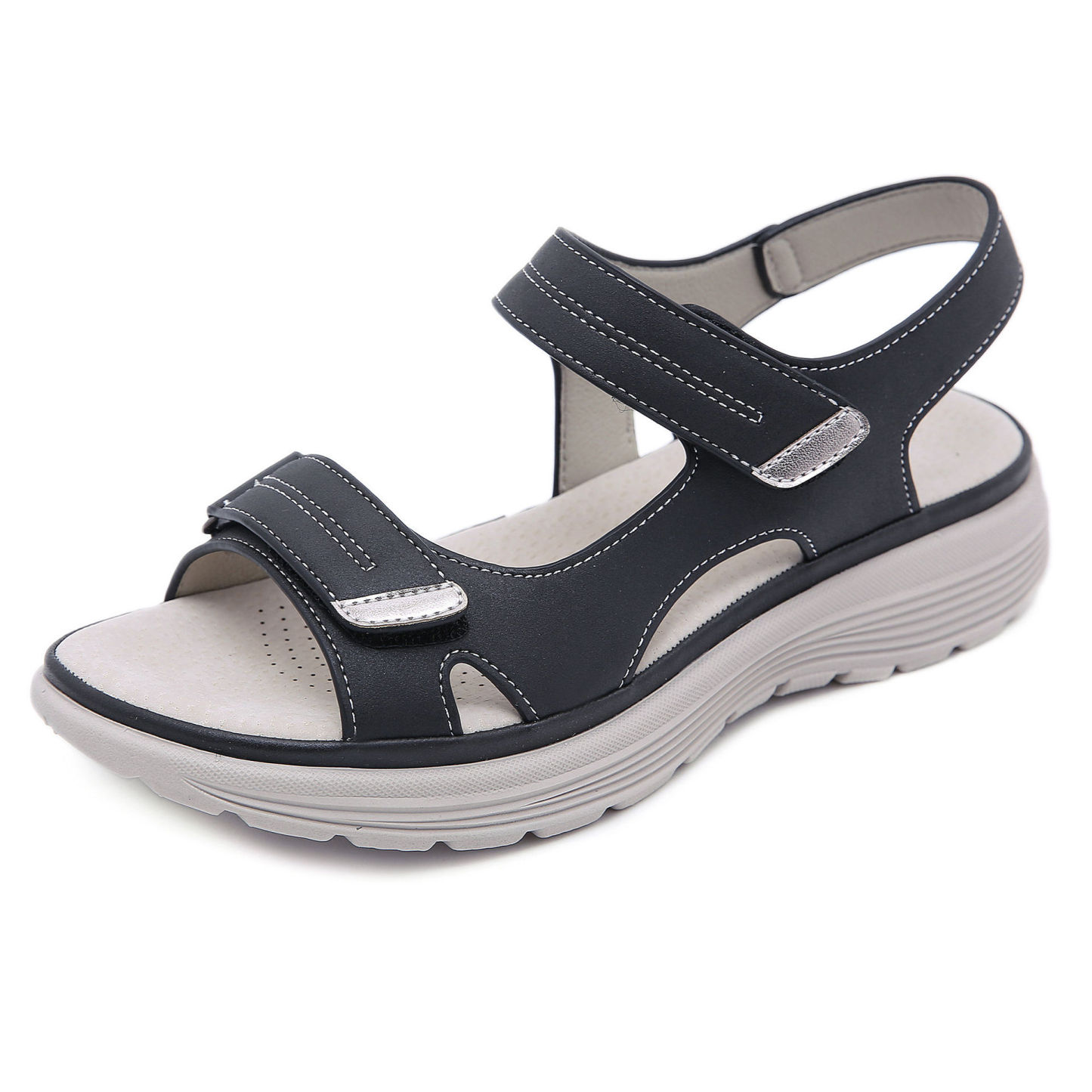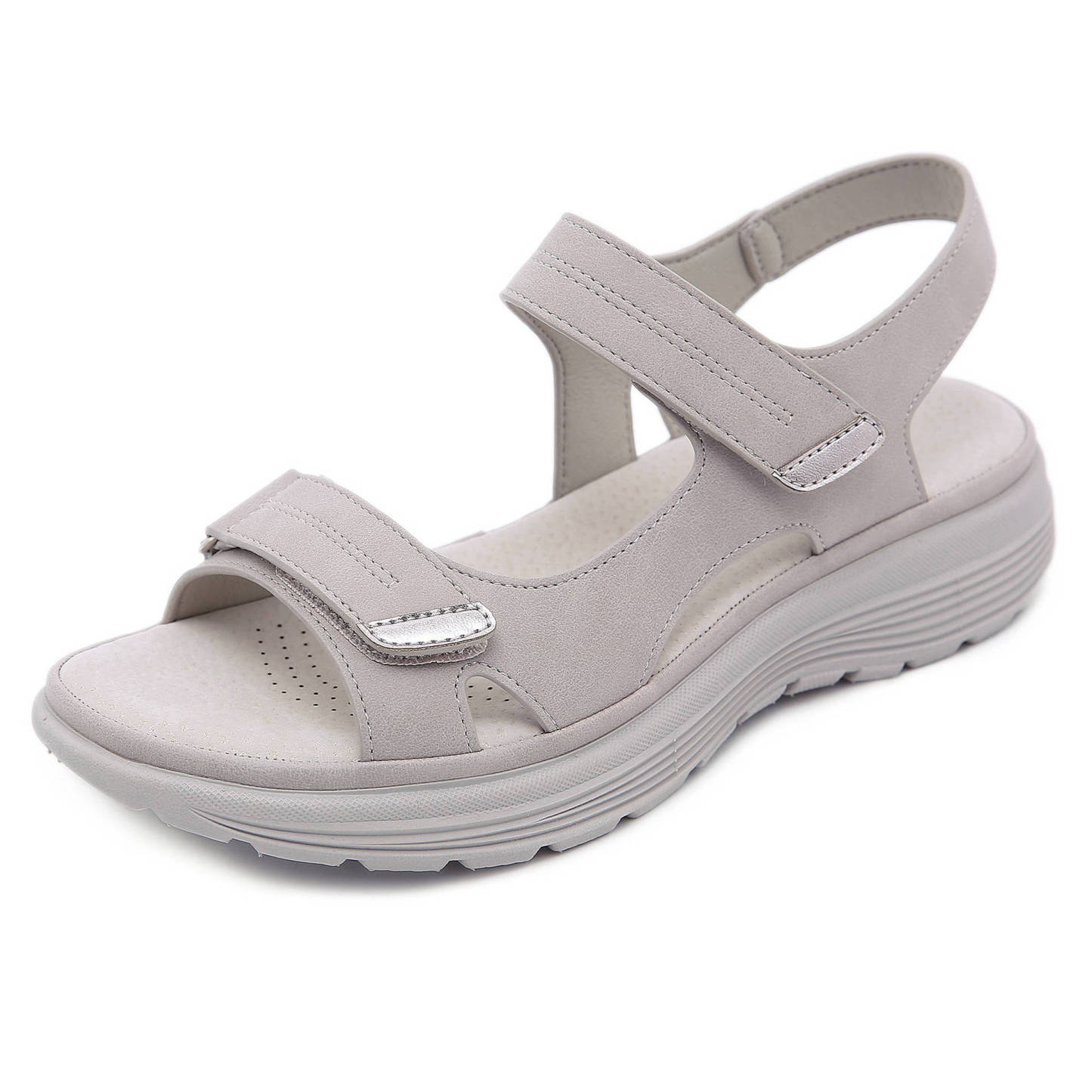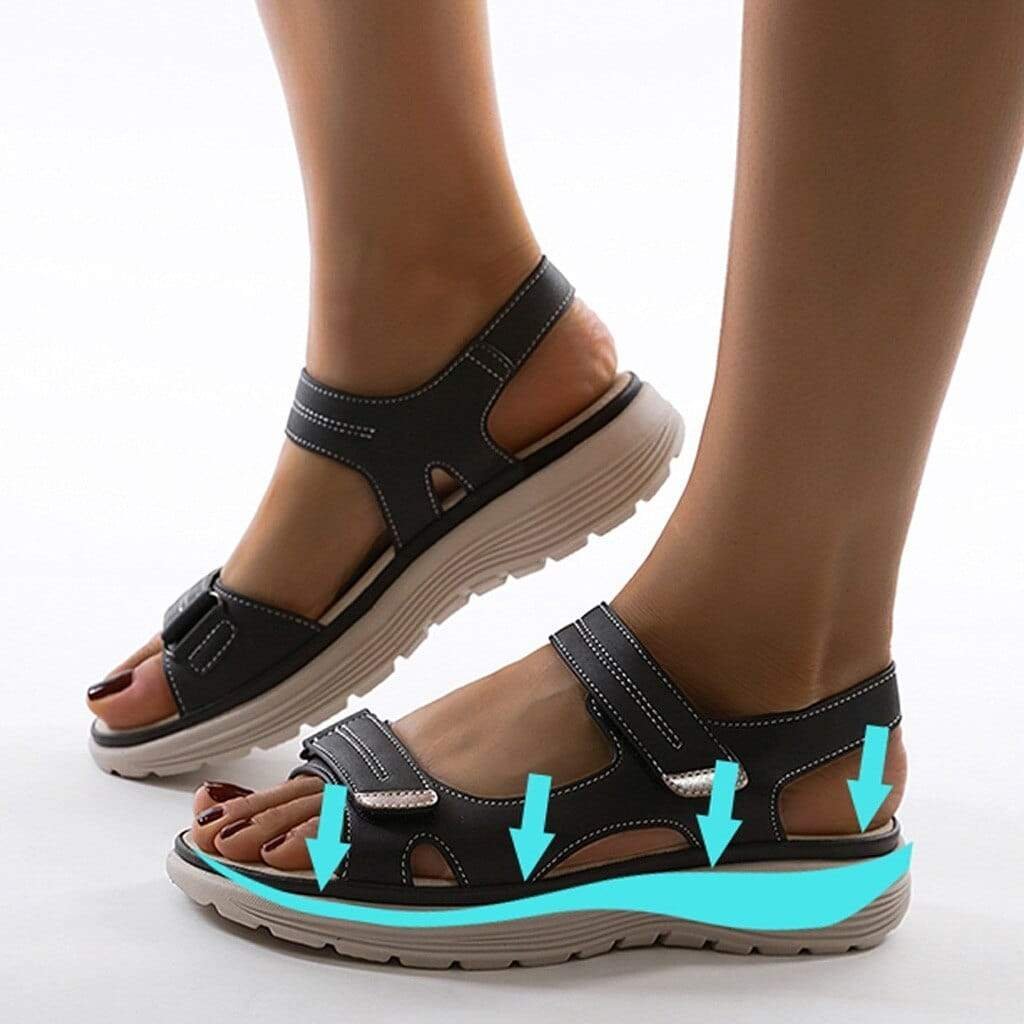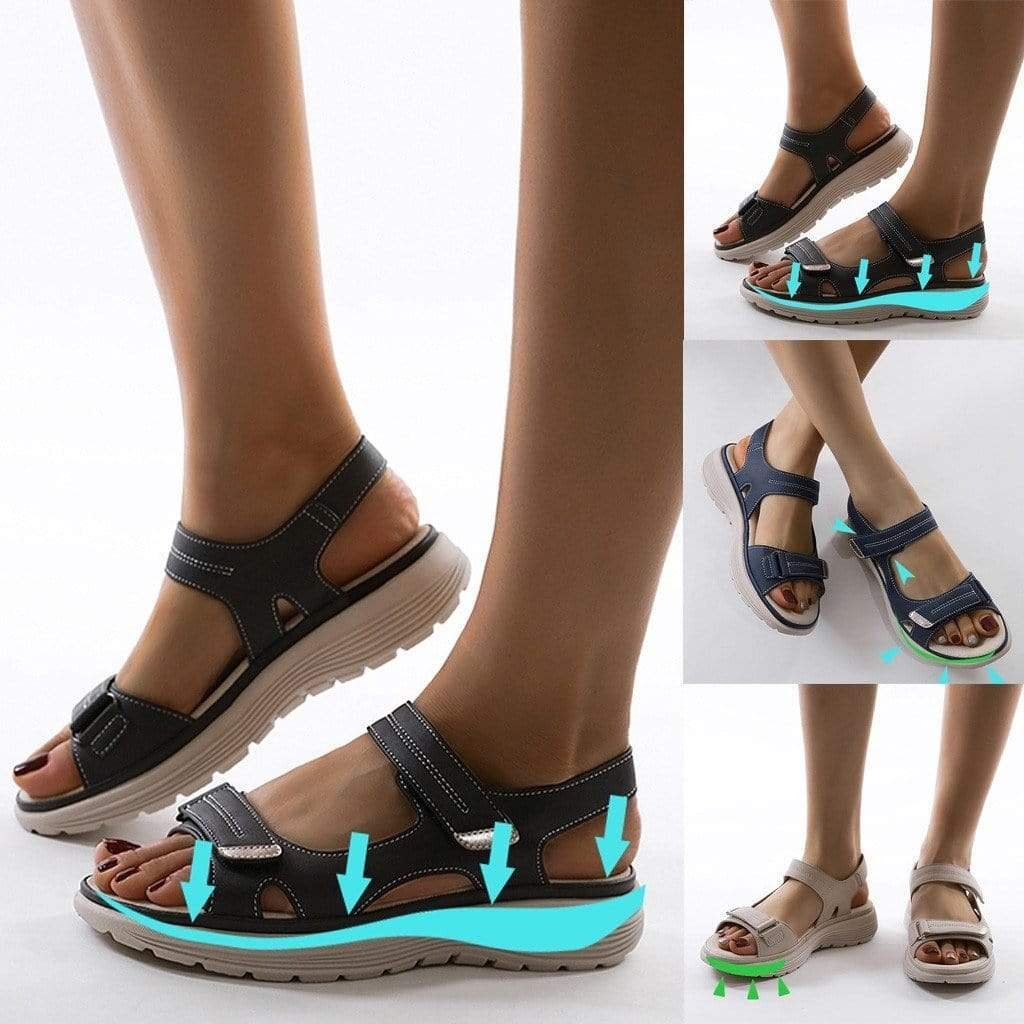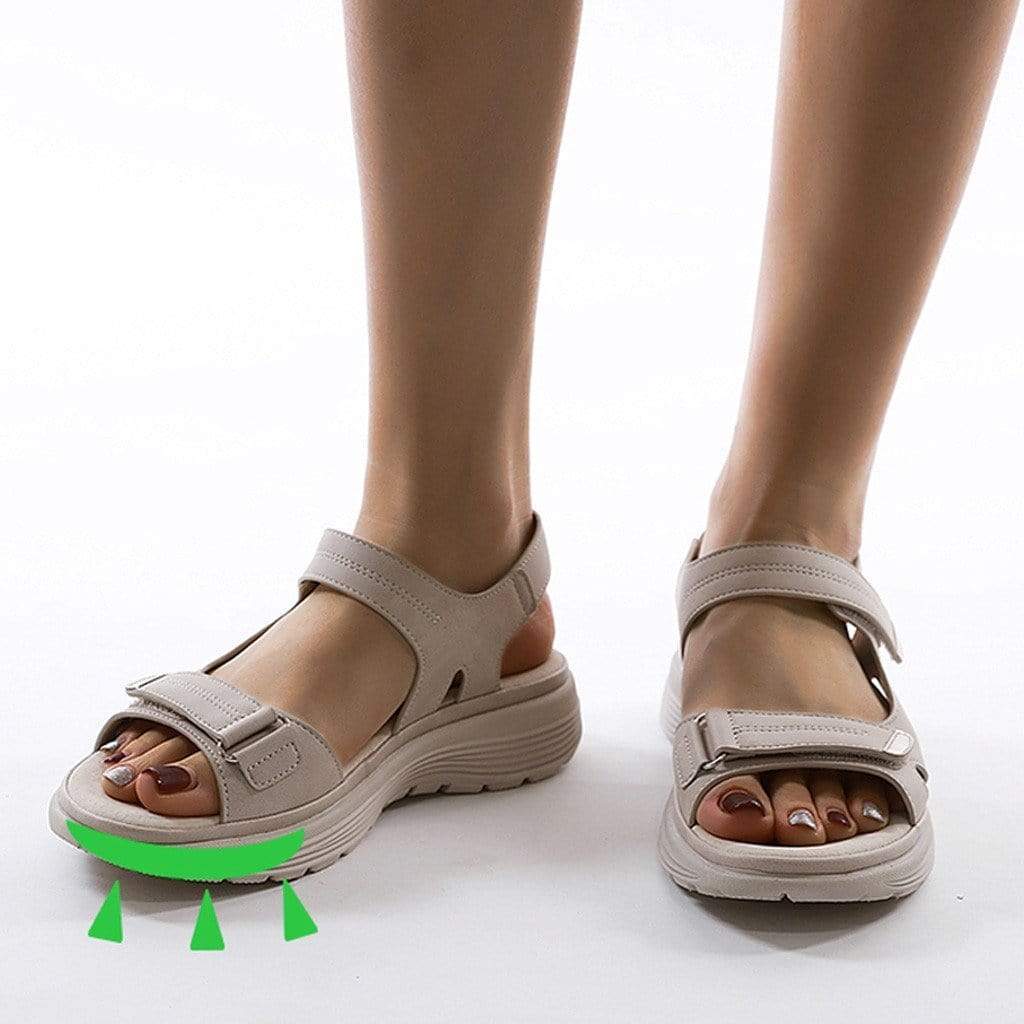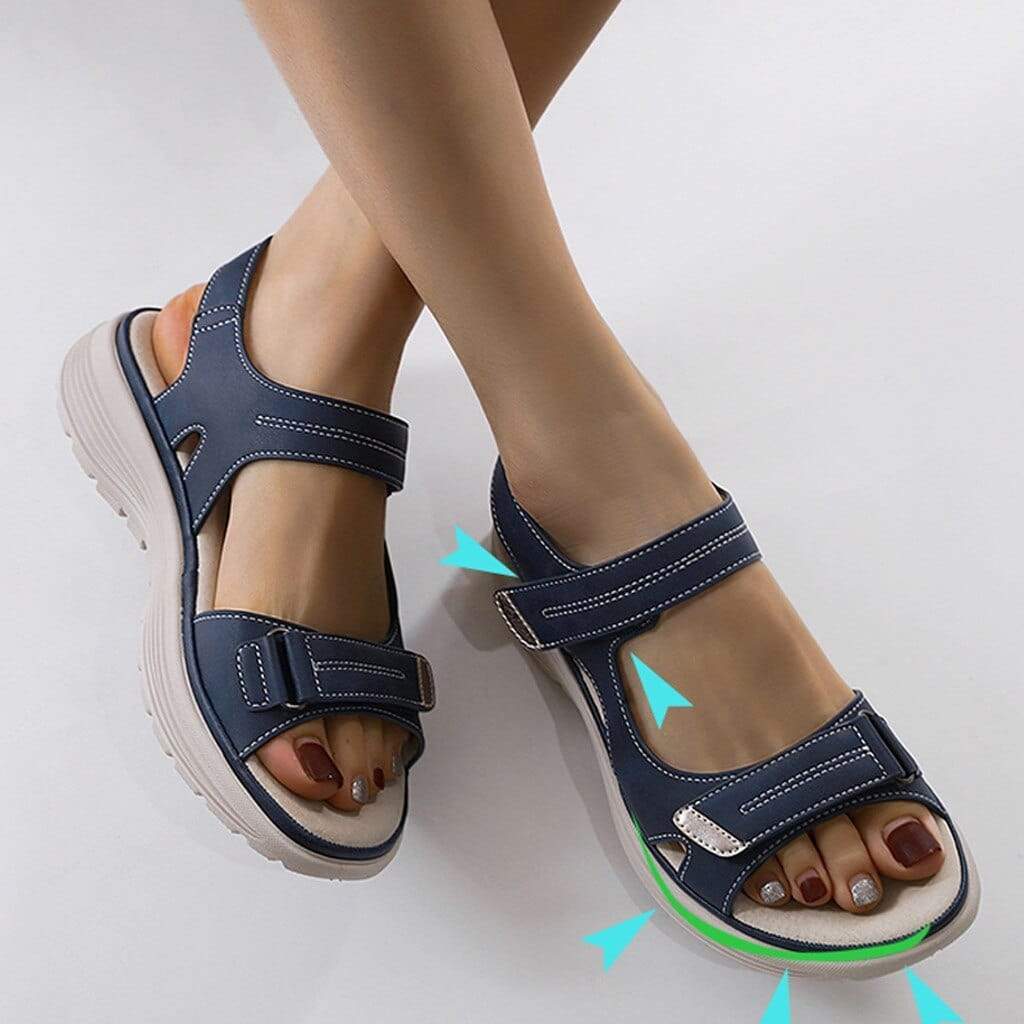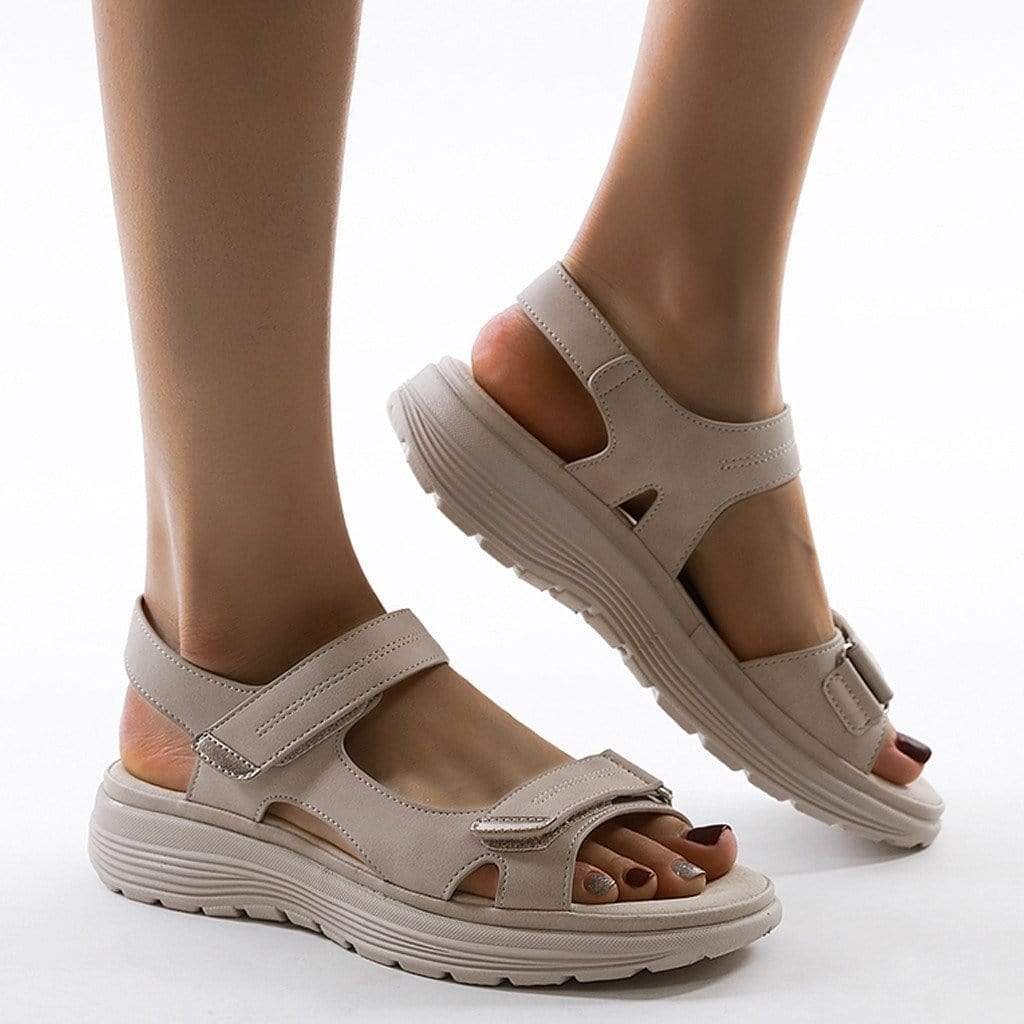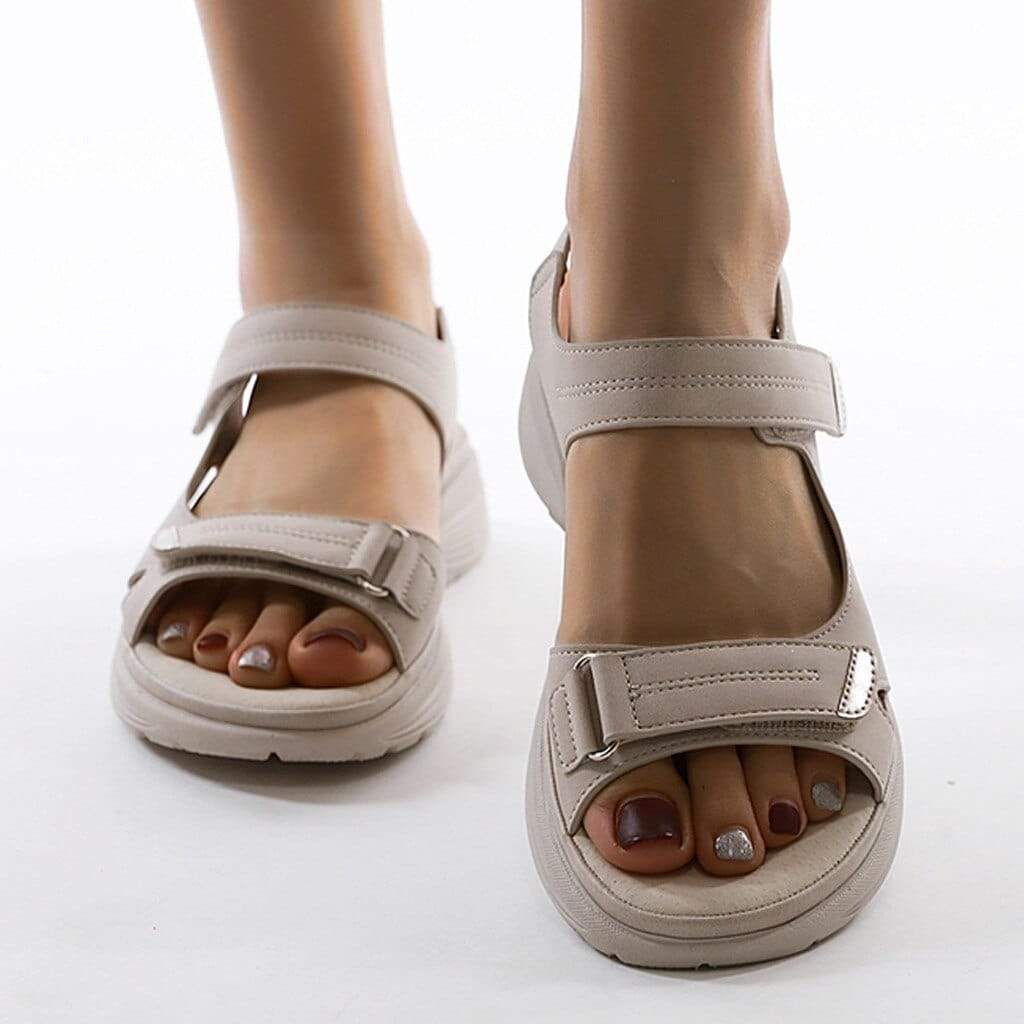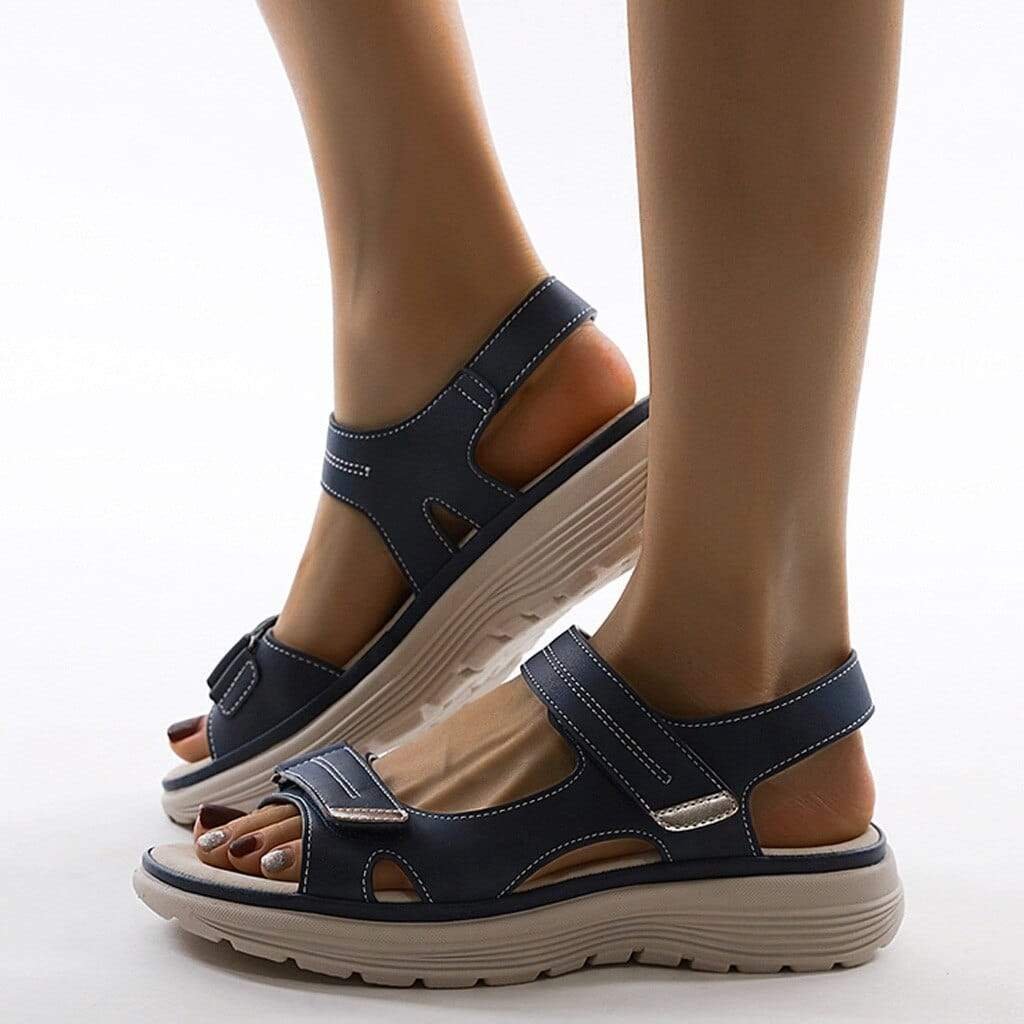 Are you tired of those nagging bunion pains that keep you from enjoying your day to the fullest?

Don't let bunion pain slow you down! Say goodbye to that constant throbbing, and hello to a new level of comfort!
Crafted with precision and designed to prioritize your comfort, these fashion-forward Bunion correction shoes are a game-changer!
Features Of The Geekhubis™ Bunion Sandals:
The cushion-like, double-padded memory foam insole is very soft. And the Walking Shoes is easy to combine.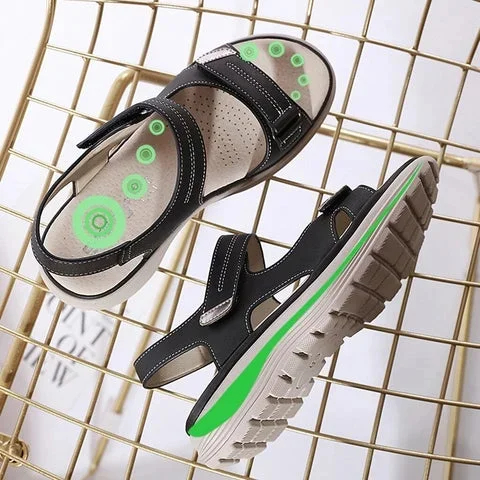 Your feet deserve a pair of supportive and long-lasting Women's Orthotic Sandals for Bunions
Geekhubis™ bunion correction sandals feature a soft fabric lining and a polyurethane footbed with metatarsal support,walking sandal with a sporty design will provide all-day comfort.
Find exceptional stability, tempered steel shank, and lightweight rubber outsole giving you the support you need to walk pain-free.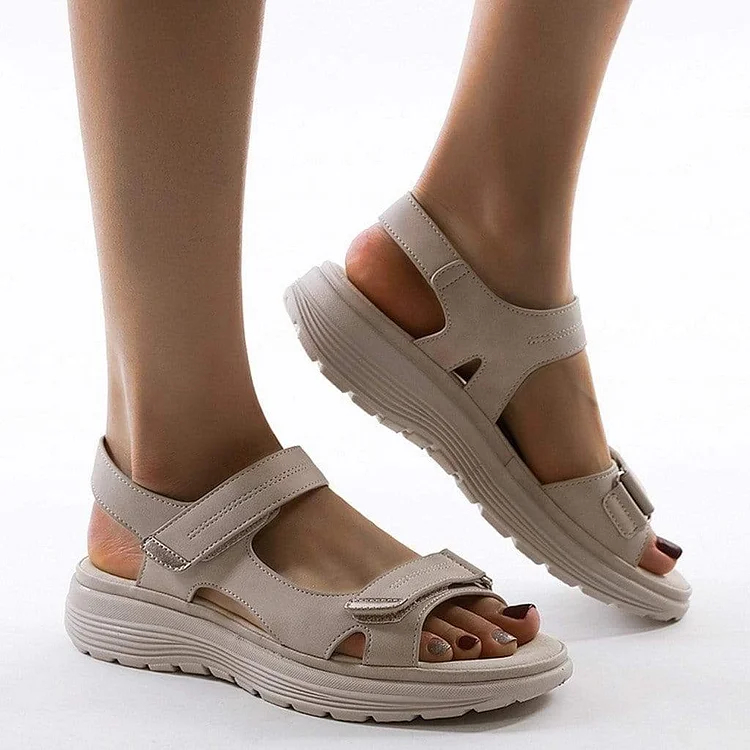 Trusted Footwear by 23,000+ People Worldwide
People of all ages benefit from our orthopedic footwear. Our customers write us daily messages about their great experiences with the ergonomic shoes. Join the Community!
Our products aim to improve the quality and fullness of life byrestoring the foundation of your feet with quality footcare products developed from a thorough understanding of foot anatomy & shoe construction.
Take advantage of the numerous benefits the Geekhubis™ bunion correction sandal has to offer, your feet will thank you.
Specifications
Upper material: PU
Sole material: MD
Style: :elegant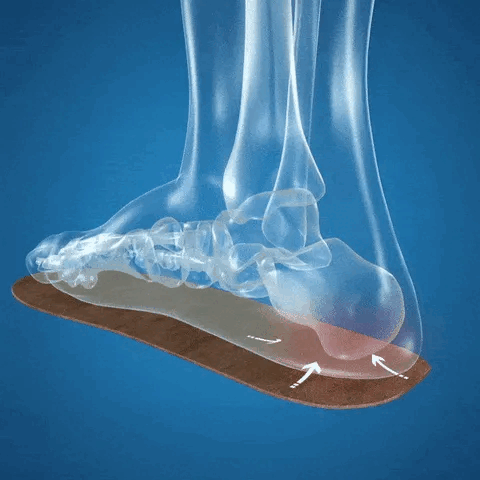 30-DAY WEAR TEST – MONEY BACK GUARANTEE!
Walk comfortably & pain-free or you receive your money back, guaranteed!
Test our items risk-free for up to 30 days and return them for a full refund if you are not totally satisfied.
See for yourself why Zealbonn is considered the Europes Most Comfortable Shoes. We stand by our products.
Remember to buy some for your family or your friends, maybe they are also looking for a suitable Sandals.
Women's Size Guide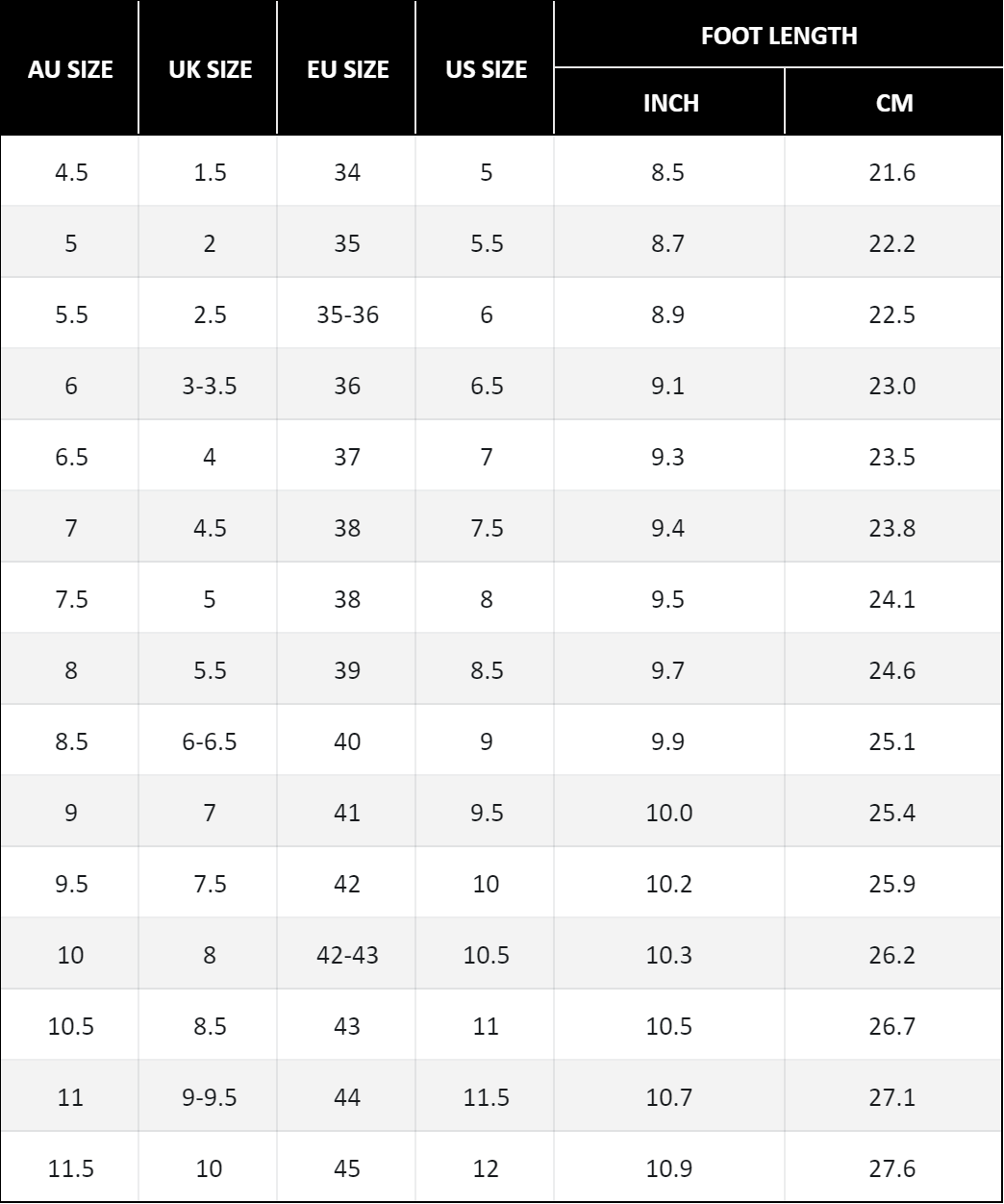 FAQs:
What are orthopedic shoes?

Orthopedic shoes are shoes designed to provide maximum support to the foot and ankle. They benefit people with foot pain and a range of conditions that make walking or exercising in regular shoes difficult and uncomfortable.
What are the benefits of orthopedic shoes?

Having supportive shoes can help reduce foot pain, increase blood flow, improve posture, and reduce the risk of injury. Additionally, wearing orthopedic shoes can prevent future foot problems.
Will orthotics solve my foot problems?

While orthopedic shoes do help provide comfort for people with foot pain and certain foot conditions, they are not a substitute for the proper medical care needed. If you feel you need medical help for foot pain or have concerns, advise or visit your local GP.
Can anyone wear orthopedic shoes?

Some people rely more on orthotics to help relieve discomfort and improve quality of life, but that doesn't mean they aren't right for everyone! Orthopedic shoes can also be used as a preventative measure to prevent foot problems as we age.
Are your shoes the right size?

Yes, our shoes run true to size! We understand the importance of shoes that fit well so you can buy with confidence. If you really don't know which size to choose, you can purchase according to the size on our size chart corresponding to your foot length, or contact our customer service: support@geekhubis.com and we will recommend the appropriate size for you.