Have no time to go to a salon for callus removal on your feet or would it be too expensive?
You might then require this Rechargeable Electric Foot Callus Remover! It allows you to enjoy a spa-quality pedicure at home for your feet! It is simple to reach every area of your foot to remove tough calluses, cracked, dry skin, and rough areas thanks to the innovative design. It could easily and quickly remove calluses and hard skin thanks to its dual speeds. All people can use it, and it is safe and painless. No avoiding eye contact or embarrassing situations by your calloused feet. Show off your smooth and soft feet with this.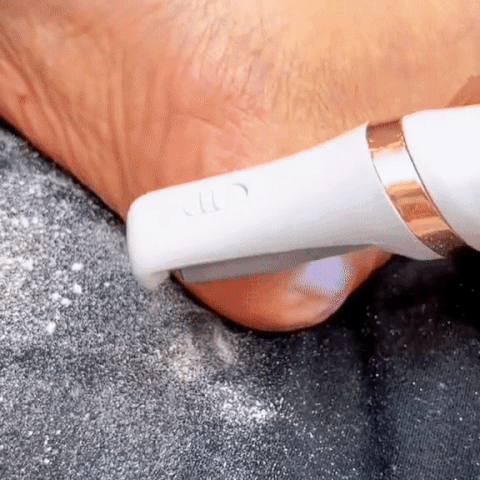 Why should you have this Rechargeable Electric Foot Callus Remover?
✅ Quick Callus Removal: You will save so much time and effort using this expert callus remover. Compared to a handheld pumice stone, it performs much better. It ensures quick results and works to stop cracked heels from recurring.
✅ Safe & Painless: The callus remover only rubs lightly; there is no discomfort at all. Our foot scrubber is non-painful and safe. Its compact design also makes it simple to reach every area of your foot.
✅ Adjustable Speed & LED Light: With its two speeds, this electric callus remover can be used for simple or more intense maintenance. All of your needs will be met. Additionally, the LED light makes it simple to work in the dark.
✅ Rechargeable & Cordless: This callus remover has a strong rechargeable battery that can handle your foot cleaning requirements. Additionally, due to its cordless design, it is convenient to use anywhere without having to deal with wires.
✅ Your Home Pedicure: These pedicure tools are excellent for removing dry, dead, hard, cracked skin and repairing heels. Working comfortably and smoothly is made possible by the design's lightness.
FEATURES:
Ergonomic design, easy to hold and use.
Made of superior material, it is reliable and durable to use.
Speed adjustable, you can easily control its speed as your request, fast or slow, more convenient.
Safer and more effective than metal scrapers and easier to use than a pumice stone.
Suitable for all kinds of people. You don't have to be embarrassed to expose your toes and feet anymore.
SPECIFICATIONS:
Power Source:

Chargeable battery

Black grinding head, Pink grinding head
PARCEL INCLUDES:
1*Rechargeable Electric Foot Callus Remover