Do you want to rediscover longforgotten auditory sensations?
Discover the new Rechargeable hearing aids from geekhubi, for surprisingly pure and natural sound!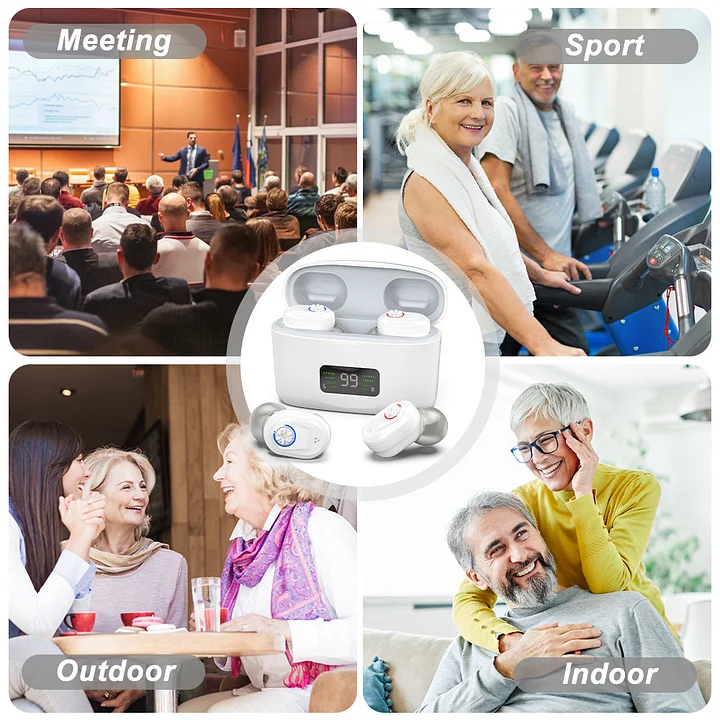 SEE WHAT OTHER PEOPLE SAY: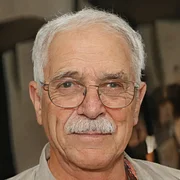 "My son bought these for me and they work so well. What a pleasant surprise to find inexpensive hearing aids that actually work!!!"
- Mike Coakly
Rechargeable Digital Invisible Hearing Aids is suitable for mild to severe hearing loss
Do you ...
Struggle to hear conversations in restaurants?
Wish you could hear your TV and music better?
Have a hard time hearing your friends and family?
Transform your life with one tiny hearing device that uses advanced technology to give you your sense of hearing back.
The
hearing device is suitable for mild-to-severe hearing loss.
Natural Design & Light Weight
With in-canal design, it can fit tightly in the ear canal with a natural appearance.
It's very light weighted, you can wear for the whole day without any burden.
It's not very small, thus it won't fall out or lost easily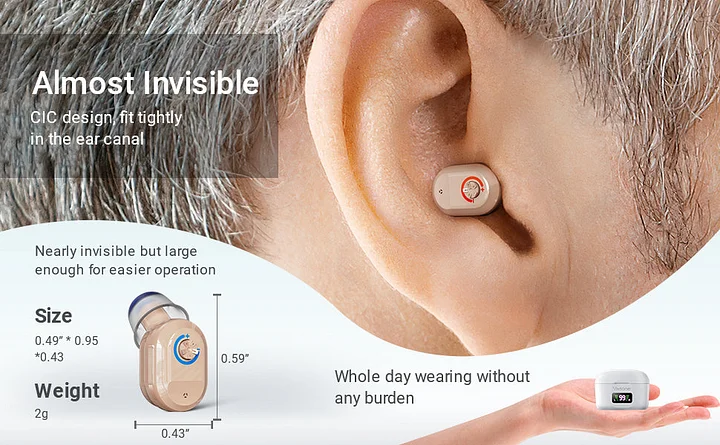 Back to the Good Old Days
Regain your hearing with hearing aids, live your life just like the good old days.
Up to 33dB sound gain, assist to hear the sound you need, with noise and background cancellation.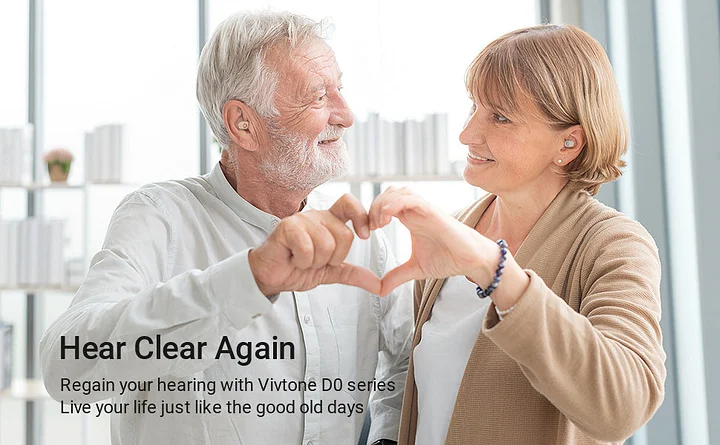 Power Display & Fast Charging
The charging case clearly indicating the percentage of remaining power, no anxiety about power off.
Charge the charging case for only 2 hours, then you will get 30 hours working time, 150 hours backup power for both devices.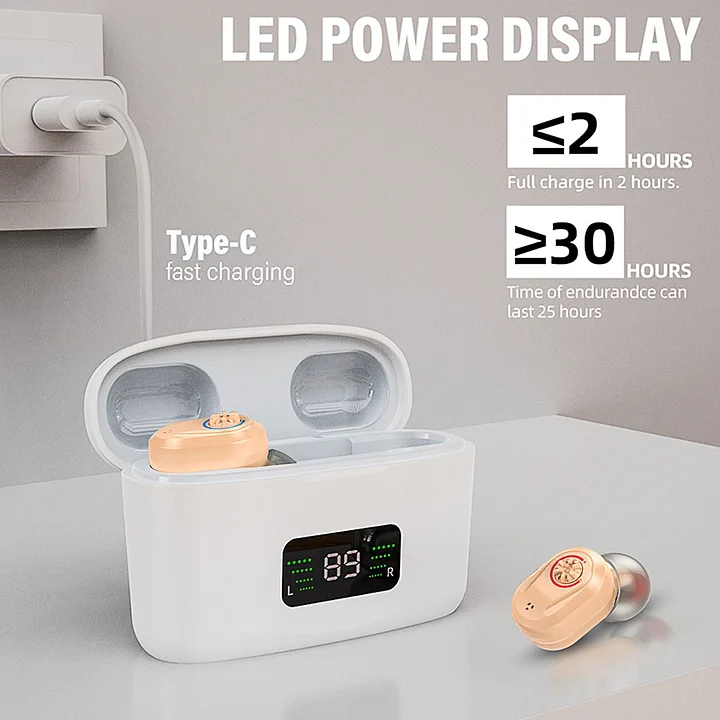 Each hearing device:
✅ The batteries on this model are fully re-chargeable and charge through the charging case included.
✅ Is suitable for mild-to-severe hearing loss. Don't let the size fool you. These hearing aids are very powerful
✅Smart & Easy Operation,Auto turn ON when you take it out from the charging case, auto turn Off when you put it back. Adjust sound volume with finger by spinning the volume button.No need screwdriver or other tools, no confusion on complex buttons
✅ Is extremely easy to use & adjustable. Set up and ready to use in seconds. Adjusting the volume is also quick and easy, with no apps or complicated tools - just follow the instructions in your user manual.
✅ Is tiny and fits comfortably in your ear. It's only 0.9*0.47*0.53 inches in size and you won't even know you're wearing it.
✅ Is very cost-effective. We often hear from our customers that our hearing devices can work just as well (and if not better) than expensive traditional hearing aids that can cost upwards of several thousands of pounds.
Easy to Use
A hearing aid should be easy to use. Our built the
Hearing Aids
CIC to focus on only the essential features and make sure they're as intuitive and straightforward as possible.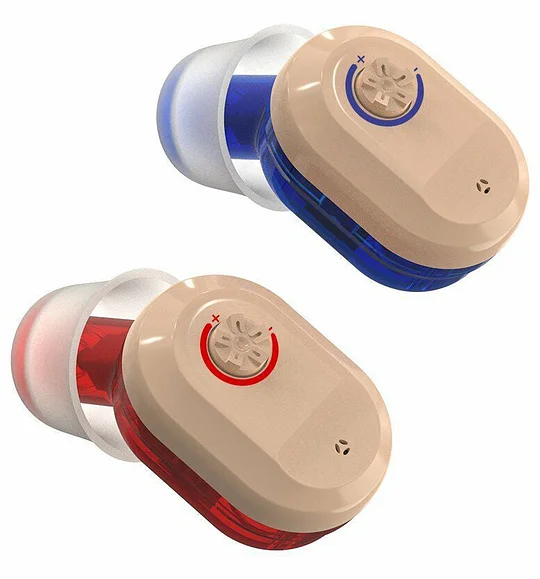 Each

Hearing Aids

comes with:
Two fully functional devices (left and right ear)

3 Pair of Silicone Earplugs (L/M/S size)

1x Charging Box

1x Type-C USB Charging Cable (0.52m)

1x Small Cleaning Brush

2x Wax Guard Filter

1x User Manual

30-day risk-free money-back guarantee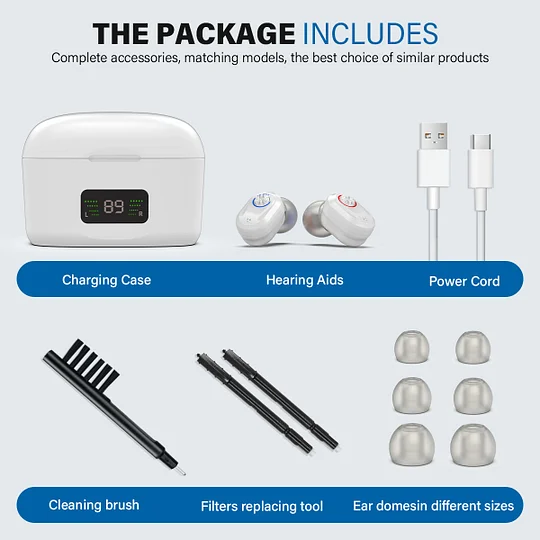 "I have turned my TV down to half the volume l did use. I have one for each ear. I can talk on the phone and not turn the speaker on!!!"
- Lynn Hall