Your all-in-one gardening wonder
Forget lugging around a toolbox of different shears and scissors with our multifaceted Professional Grafting Tool. Crafted with #65 high carbon steel double-edged shear blades, sturdy ABS plastic handles, and three different incision grafting blades, you have everything you need to prune, graft, and cut right in your hands.
Cut with precision
Our tool's graft-cutting blades cut fruit branches with diameters from 5mm/0.19in to 12mm/0.47in, allowing for precise cutting for improved plant survival. Our blades come in Ω-Cut, U-Cut, and V-Cut to tackle any branch or cut.
Bonus tools with case
If you order your tool with the case, you score an extra screwdriver and a wrench. More help on-hand, more convenience for you.
This tool can do it all
Tend to your plants with case
Features:
2 In 1 Tool Kit –

The grafting tool includes both a pruner and complete grafting kit. First, it allows you to trim away excess leaves and twigs and to prepare the plants to be grafted. Second, you can then make a precise cut into the grafting stock with the special grafting guillotine.
Premium Material –

SK5 replaceable grafting blades for clean cuts. #65 tough high-carbon steel sharp shear blades and spring for long-lasting use with high-strength ergonomic ABS plastic handle for comfortable holding
High Survival Rate -

The cuts made by our graft kit will fit together perfectly for maximum cambium contact, significantly improving the survival rate of plant.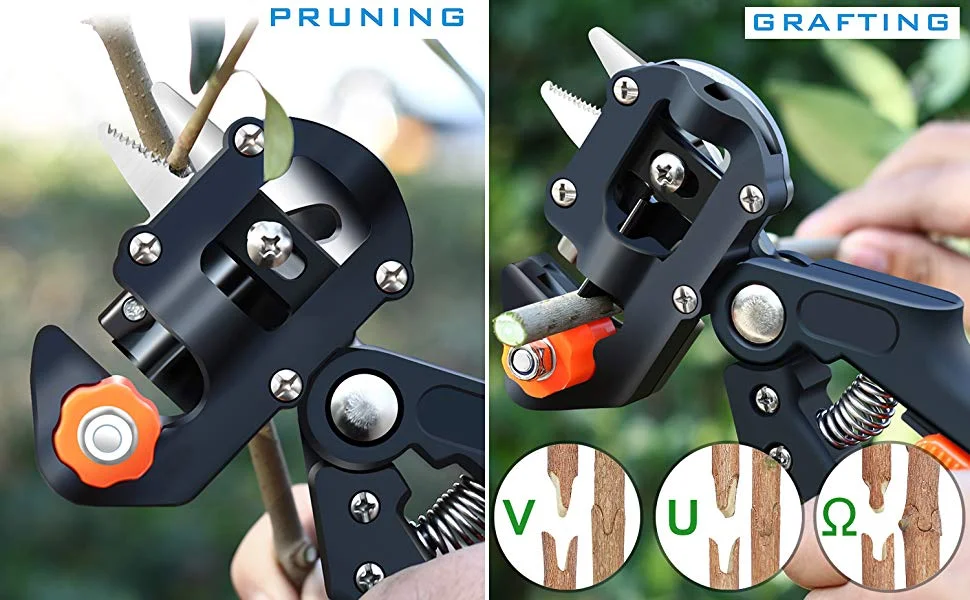 East To Learn And Operate - No need to be professional at grafting, we make it easier than ever for you.
Major Time Saver -

Cut, join, tape, and the grafting job is done. You don't have to shave same slopes on both branches with a knife as in the old laborious and time-consuming way.
A great gift for all
Dad, mom, coworker or neighbor -- as long as they have a greenthumb, they'll love this amazing do-it-all grafting tool.
Package includes:
A set of professional grafting tools