Say goodbye to painful string flossing and hello to fast and effective teeth cleaning. The Portable Teeth Water Flosser uses High Pressure Water Technology to give your mouth a deep clean that is faster and more effective than traditional flossing. This means improved gums, fresher breath and whiter teeth.
REGULAR BRUSHING IS NO LONGER ENOUGH!
We get it, flossing sucks. Yet everybody should be doing it, there's a reason why your dentist won't shut up about it. That's why we made flossing pain-free, quick & easy. Be quick.
✅ Effectively remove 99,99% plaque, bacteria & food particles
✅ The quickest and easiest way to floss
✅ Eliminate bad breath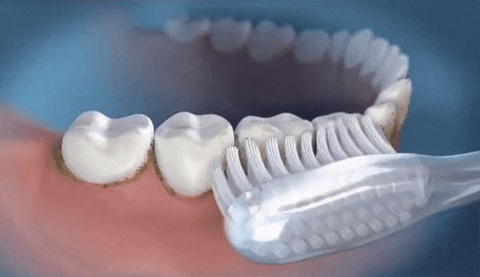 FALL IN LOVE WITH FLOSSING
Tooth decay is the second most common disease, second only to the common cold. Start taking charge of your oral hygiene now. Your future self will thank you for it!
✅ No pain. No bleeding. No worries
✅ Blast away plaque & bacteria from places that normally only your dentist can reach
✅ 3x more effective than string floss while being 10x faster
AT HOME DENTIST-LEVEL CLEAN TEETH
pressure control engine: one of the strongest engines on the market - plaque is no match. Choose between three powerful settings!
✅ Reach places only your dentist can reach
✅ Choose between the 3 powerful cleaning settings
✅ Give your teeth & gums a well deserved massage
INNOVATIVE DESIGN AND FEATURES
⭕️ 360° Rotatable Nozzle
The 360° tip rotation allows you to reach every corner of your mouth and gum for a comprehensive clean.
3️⃣ Three Pressure Settings
The 3 pressure settings allow you to floss to your preference - start from a lower pressure, and gradually build up to a comfortable level.
💧 200mL Water Tank
The water tank is big enough for a full teeth clean while remaining compact in size. It is also completely retractable and removable, making it super easy to clean and refill.
SPECIFICATIONS
Power supply method: USB interface
Adjust the gear: 3 gears
Charging current: 1A
Charging voltage: 5V
Rated power: 3.5W
Material: ABS
Product weight: 249g
Product size: 140*75*65mm
PARCEL INCLUDES
1*Portable Teeth Water Flosser
1*USB Charging Cable
4*Nozzle Head