Aerial camping hammock whether you're relaxing by the fire or sleeping under the stars, camping hammock allowing you to enjoy the comfort brought by the hammock in the most convenient location. The hammock is large and strong enough for 3 adults to sleep in comfort. The tree hammock is comfortable and can be used easily in the wild, or your backyard.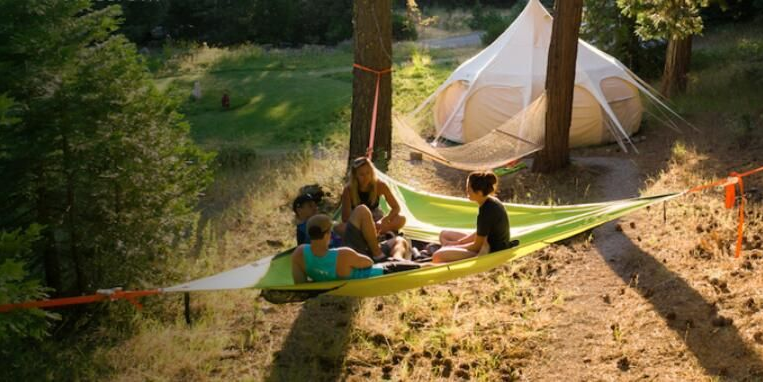 FEATURES AND BENEFITS:
Comfort, protection & easy washing: The Camping Hammock's unique 3-point anchor system provides a taut and tensioned base to the hammock giving you the most comfortable night's sleep you've ever had in a tent whether you sleep on your front, back, or side. If your kids are not gentle, and after several uses, they still have held up very well. Even put them through the wash a couple of times and they still look good as new.
Superb multi-person hammock: This "large hammock" deserves to be recognized. The stitching is superb, no fraying, no popped stitches, no corners were cut when constructing this hammock. The hammock is large and strong enough for you and your friends. The hammock is designed to hold 3 adults and their gear making it perfect for family adventures or group camping.
Ground suspended: The hammock is suspended off the ground between 3 anchor points, so there's no need to find level ground. Being held above the ground moves you away from damp, uneven, or stick/stone-covered ground.
Reinforce anti-roll straps: Each hammock is reinforced with our unique anti-roll strap system which creates separate sleeping bays for each person and prevents you from rolling to the middle of the tent; a must-have feature for multi-person camping.
Adjustable, easy to install: You will finally go hammock camping and can't believe you've missed out on the practicality and comfort of it! You don't need to search for three points that are equal distance apart. Adjust the tension and height, and you're ready to relax in no time with the camping accessories.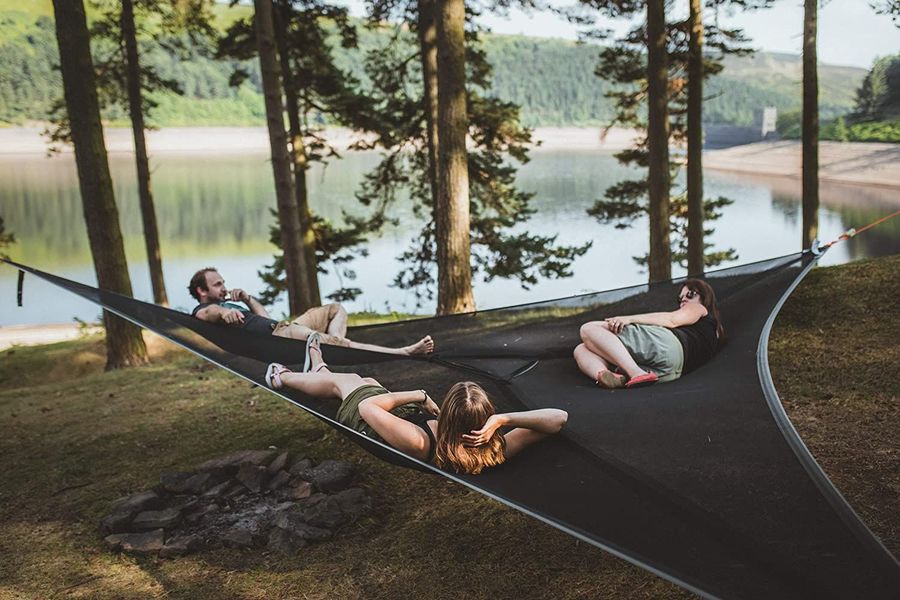 PRODUCT SPECIFICATIONS:
Material: Polyester

Capacity: Withstands 250KG / 550 lbs

Product side length size:

2*2*2 meters
Alt