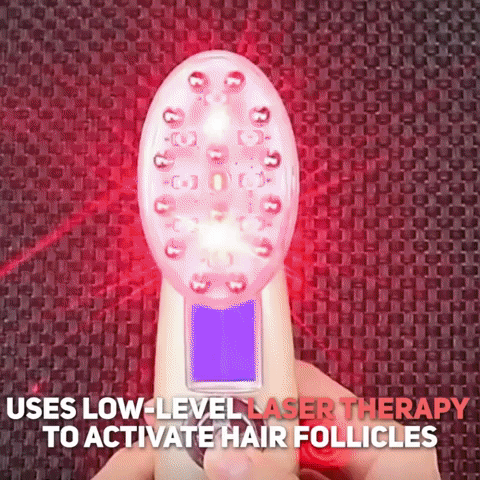 Hair loss, alopecia, or baldness has many causes, but it also has consequences such as decreased self-esteem. The Professional RF Hair Regrowth Laser Comb is a tried and true new technology that can reduce hair loss and stimulate new hair growth and fullness. Using the latest soft laser technology, the Professional RF Hair Regrowth Laser Comb generates 650nm low level laser energy that activates cells and awakens follicles from their dormant state. The massager head can improve the absorption of any tonics used, or relieve pressure or headaches.
FEATURES:
Easy to read LCD screen, lightweight and easily portable, and the quality ABS stainless steel laser comb makes it the perfect at home hair care appliance for both men and women.
Infrared light jumpstarts scalp metabolism and helps cells regenerate.
Comfortable massage from the micro vibration of acupoints on your head.
Low frequency current laser improves metabolism, and wakes up the hair follicles and atrophic hair cells.
EMS (electrical muscle stimulation) and RF (radiofrequency) wakes up dormant hair follicles.
LED mode helps cell activation and the LED vibration mode increases hair and scalp health.
There are many reasons for hair loss. Lifestyle, such as stress, pollution, mineral deficiencies, or an unhealthy diet can be to blame. Or, it can simply be genetics, unbalanced hormones, or medication side effects. The Professional RF Hair Regrowth Laser Comb is a laser treatment that regenerates hair by stimulating dormant hair follicles to come back to life. The result is less hair loss and new hair growth.
BENEFITS:
Hair growth cycle is restored
Less shedding and thinning
Better scalp health and easier hair growth
Hair will be stronger, fuller, and thicker
Regulates production of oil
Gives new life to aging hair
Wakes up sluggish hair follicles
The Professional RF Hair Regrowth Laser Comb solves problems like retrusion of the hairline, hair loss, greasy hair, and a widening capillary crack. With the many treatments it offers, low-frequency laser, nano red light, EMS micro-electricity, vibration massage, RF, infrared light, and electroporation you can enjoy thick, full, healthy hair again.
SPECIFICATIONS:
Weight:0.55kg
Size:19*4cm/7.48*1.57in
PACKAGE INCLUDED: