Have you seen an easier training method? No more squats, no more lunges! This is the best Muscular Development Tech Today!
It has 10 different intensity levels, you can choose the program that fits your needs. We advise beginners to start with low intensity to naturally progress towards higher levels of intensity. Please note that the vibrations should feel light without too much pressure. If you experience very strong intensity or an overload of vibrations, please stop using the product and contact the team for clarifications.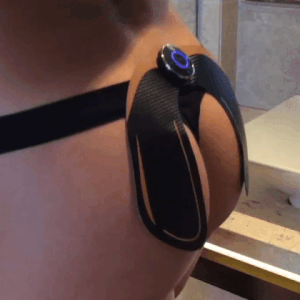 It uses EMS biological micro wave impulses to stimulate the hip muscles movement, lift up hips to make them plump and elastic, offering you firm and well-built muscles! It works great on the droop, flat, spot and non-symmetrical buttocks. Train your hip and buttock easily and effectively today!
FEATURES:
Great for

shaping buttocks, firming loose skin, reduce cellulite, enhance muscle building, relieve muscle soreness and stiffness.
With U shape pad for hips.
Self-training, free from side effects, easy operation and amazing results.
Ergonomic pad design

enables great adhesiveness to the hips.
Electrical stimulation of the gluteal muscles.
It shuts off automatically 5 seconds after it is detached from the body,

great for battery preservation.
Easy assembly

with two press buckles on the controller.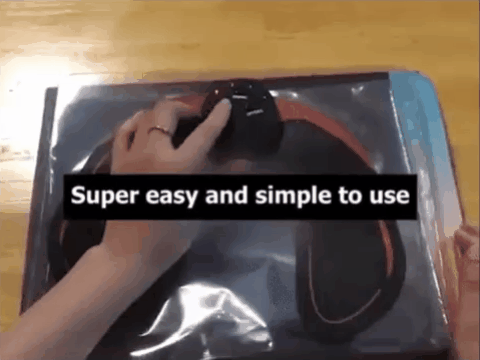 HOW TO OPERATE:
Suggest one time per day.
Automatic turn off about 5 seconds later if do not attach to body.
Attach the gel pad to the stomach between your ribs and hips. Wipe any sweat off the stomach area before use; Touch the gel surface as little as possible.
Connect the main device and turn on. Press ON/OFF button to turn on the main device, indicator light flashing 3 times. Automatic turn off about after 23 minutes.
Intensity Adjustment. Total of 15 stimulation levels (1 to 15). Turn on is in Level 1. Press "+" button to increase and "-" to decrease the stimulation levels.
Auto Program. About 23 minutes from start to finish. Different in sensation.
Turn off and remove pad from your body. Press ON/OFF button to turn off the main device, indicator light will be flashing 3 times.
LED Indicator light:


| | |
| --- | --- |
| Action | Green LED Light |
| Press ON/OFF button | Flash 3 times |
| Press "+" button | Flash 1 time |
| Press "-" button | Flash 1 time |
| Auto Power Off | Flash 3 times |
SAFETY:
Never use this unit near the ear, around the mouth or on sensitive skin.
Do not use this unit while sleeping, driving or taking bathing.
Do not use if you are pregnant, have any implant near the device, have cardiac arrhythmia or disorder of the heart's impulse and conduction system.
SPECIFICATIONS:
Item Type: Hip/Buttocks Trainer
Material: PU
Color: Black and Orange
Powered by: AAA battery(not included)
Size:
PACKAGE INCLUDED:
1 x Hip Trainer Pad
1 x Controller