With This Garden Sprinkler, you'll have the best looking lawn on the block.
360 degree rotating action, quick watering providing better coverage saving you time and water, very quiet, it sounds like slight rain, providing better coverage saving you time and water.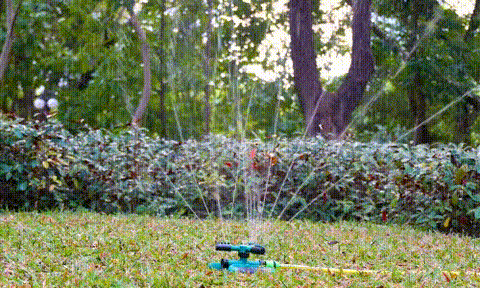 It can be used for lawn, agriculture, nursery, and grass irrigation, compatible with home, garden, yard, roads, greenhouse watering, and cooling.
Lightweight yet stays where you put it, with no unnecessary parts, no adjusting mechanisms to break, and the right size to hang on an outside faucet so you do not forget where you put it last time you used it.
Features
Rotation 360° - Thorough watering is essential for lush outdoor plants, this sprinkler rotates 360 degrees automatically, with 3 adjustable rotating arms and 12 nozzles in different directions to help you water your plants perfectly, so that you can always enjoy the grass.
Water-Saving Design - With a 360 degree rotation feature and the three nozzle spray, the lawn sprinkler can make good use of water to feed your garden well without wasting water resources.
3600 square feet coverage - The sprinkler can cover 3600 feet with water pressure of 80 PSI. Whether your yard is big or small, you can use this sprinkler to irrigate your lawn and garden.
Easy to install - This garden sprinkler comes with a quick connector fitting to work with your traditional rubber hose, and also comes with extra waterproof tape to meet your better demand.
Water your garden & have fun - This 360 Degree Rotating Water Sprinkler must be a great choice for you to irrigate lawn, garden, trees, it's also a sprinkler for kids entertainment. Imagine having fun with your kids at the same time while irrigating the lawn in summer, what a nice parent-child time.
Specifications
Materiel: ABS, TPR, PP

Color: Light green

Rotation: 360°

Spray diameter: 16''- 23

''

Nozzles: 12

Size: (19

×

24

×

9.5) cm
Package Includes
1×Water Sprinkler.